One hour non-stop mix by Ben Liebrand

As if you were back in the old days Ben mixes tracks from the past with a touch of the present.
Continuing from last week:
Sharon Redd - Beat the Street (
grand12inches
)
Stevie V - Body Language
Kraze - Let's start the party
Alyson Limerick - Where love lives
Diana Ross - The Boss
The Beatmasters - Ska Train
Jungle Brothers - I'll House You
Bomb - Can you dig it
2 Live crew - Me so horny
The Real Thing - Can you feel the force
Kiss - I was made for loving you
Azoto - Anytime or place
American Gypsy - I'm Ok You're OK












---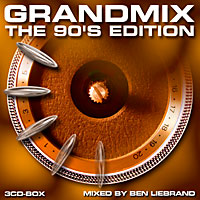 Classics Edge by Gertjan Kuipers aka GJK
1. Tonite – supercar
2. Kylie – in your eyes
3. Michael jackson – hystory (groove)
4. Technotronic – get up
5. 2 unlimited – get ready for this
6. Gat decor – passion
7. Heller & farley – ultra flava
8. Gypsyman – barbarati
9. Alcatraz – give me love
10. Intercourse – ain`t nobody
11. Culturebeat – i like you
12. 2 bros. On the 4th floor – turn da music up
13. Black legend – you see the trouble with me
14. The course – ready or not (clubmix)
15. The reynold girls – i`d rather jack (groove)
16. Kylie – love at first sight
17. The tamperer – feel it (extended version)
18. The ones – flawless
19. The good men – give it up
20. M-people – moving on up
21. Technotronic – pump up the jam
22. Modjo – lady
23. Stuart – free
24. Velosophy – desire
25. Living joy – dreamer
26. Black & white bros. – put your hands up in the air
27. 2 unlimited – the magic friend
28. Felix – don`t you want me
29. Alan braxe & fred falke – intro
30. Chicane – offshore
31. Duke – so in love with you
32. Deep down – mantra (groove)
33. Roger sanchez – another chance
34. Dj prinz – last call to peru (groove)
35. Deep zone – it`s gonna be allright
36. Tori amos – professional widow
37. Mory kante – yeke yeke (hardfloor remix)
38. Mighty dub cats – magic carpetride
39. Bass bumpers – the music got me
40. Gala – freed from desire
41. Stevie v – dirty cash `97
42. Livin` joy – don`t stop moving
43. Klatch – oh boy
44. Urban cookie collective – feels like heaven
45. The riders – bang (extended piano)
---

A weekly suggestion to make your retro trip complete.
Obviously influenced heavily by my love for Science Fiction
read more...