One hour non-stop mix by Ben Liebrand

As if you were back in the old days Ben mixes tracks from the past with a touch of the present.
Gino Soccio - Try it Out
Change - Paradise
Gino Soccio - It's Alright
Tyrone Brunson - The Smurf
Young & Company - I like what you're doing to me
SOS Band - Take your time
Heatwave - The Grooveline
SOS Band - No Lies
Gino Soccio - Dancer
Royal House - Can you feel it
Azoto - Anytime or place

Artists featured in this episode









---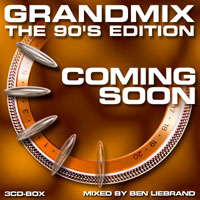 Check out
the brand new Grandmix 90's Edition
---

80s & 90s mix part 1 by Paul Steman
Chimes Still haven't found what I'm looking for
Shanice I love your smile
Soul 2 Soul Keep on movin
Ace of Base All that she wants
Jan Hammer Crocket's theme
Joyce Simms Come into my life
Dennis Edwards Don't look any further
Enigma Sadeness
Liebrand and Collins In the air tonight
Marvin Gaye Sexual healing
Beats International Dub be good to me
Paula Abdul Straight up
Salt 'n Peppa Weerule
Peter Gabriel Sledgehammer
Ace of Base The Sign
Milli Vanilli Girl you know it's true
Grace Jones Slave to the rhythm
Janet Jackson That's the way love goes
Sly Fox Let's go all the way
Tears for Fears Shout!
Madonna Justify my love
Sade Paradise
Madonna La isla bonita
Ini Kamoze Here comes the hot stepper
Soul 2 Soul Get a life
Bad boys Remember me
Candyman Knocking boots
Color me badd I wanna sex you up
Ashford and Simpson Solid
Imagination Music and lights
SOS Band Just be good to me
Seal Crazy
The Gap Band(or snap) Oops upside your head
Michael Jackson Who is it
Loose ends Hanging on a string
Jocelyn Brown Somebody elses guy
Jenny Burton Bad habits
Imagination Just an illusion
Montell Jordan This is how we do it
George Michael Real love
Level 42 Love games
Laura Brannigan Self control
Ntrance Staying alive
Neneh Cherry Buffalo Stance
Change Change of hearts
Salt 'n Peppa Let's talk about sex
Backstreet boys Everybody
Kayagoogoo Too shy
Snap The power
Fine young cannibals She drives me crazy
FM Static What u waitin for
Frankie goes to hollywood Rage hard
Pointer sisters Automatic
---

A weekly suggestion to make your retro trip complete.
Obviously influenced heavily by my love for Science Fiction
read more...