Classic minimix by Ben Liebrand:

The World - Olympics
Produced by Ben Liebrand in 1988 celebrating the olympic
spirit.

A classic remix by Ben Liebrand:

2 Unlimited - Tribal Dance
Remix by Ben Liebrand for DMC taking the track more into the techno direction

A classic remix by Ben Liebrand:

Building up to Dano's interview, here is a techno minimix with some of the tracks I used to play at the Hippodrome in Germany.

A special studio guest tells us about his all-time classics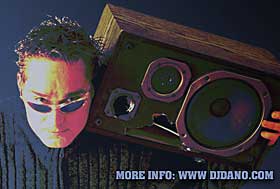 DJ Dano celebrates his 20 th anniversary on the 20 th august 2004
1984-2004 20 years DJ Dano
with:
Ben Liebrand (Grandmix)
Per (Beatclub)
Jeroen Flamman (Manic Monday)
The Dreamteam (Dano, Buzz Fuzz & Gizmo)
from 18.00 – 24.00 Hours at Q-Beach, Bloemendaal.
Free Entrance!
"First contact" with dance was made listening to Ben Liebrand In The Mix back in 1983 and the dance virus never left Dano after this. He has become known for his harder than hardcore sets.
He tells about his peaks and times of misfortune. His favorites are obviously the hardcore tracks, but even if hardcore is not your cup of tea, don't miss this and DO listen to the
backstage interview
.

I wanna be a hippy - dj Dano remix

Dj Dano 120 - 9000

Chosen Few - Name of my DJ
Dj Dano's
website


Your chance to get your mix played on air. Send them to:
Postbus 15, 6550 ZG Weurt Netherlands. Don't forget to put your name and e-mail address on the CDR and list all the tracks that are used.
Please also send that playlist to me by
e-mail
. Don't be upset if your mix doesn't make it, or if it takes some time before it is broadcast.

1983 Dance Classics mix playlist 14:56
Artiest Titel Label Cat.nr
DeDe - S&M Clockwork
The art of noise - Beatbox (rhythm)
Dimples D - Sucker DJ (acapella)
Advance - Take it to the top
Indeep - Last night a dj (acapella)
Frankie goes to Hollywood - Relax (beats)
Globe & Wiz Kid - Play that beat
2 Sisters - B Boys beware
Grandmaster Flash - White lines
C.O.D. - In the bottle
Herbie Hancock - Rockit (scratch)
Armenta & Majik - I wanna be with you
Shannon - Let the music play (sample)
Oliver Cheatham - Get down Saturdaynight (beats)
Sharon Redd - Love how you feel
FunFun - Happy station
LaFleur - Boogie nights
Captain Rock - The return of Captain Rock
Cori Josias - Takin'it straight (dub)
Class Action - Weekend (acapella)
Gary's Gang - Makin' music
RisquÈ - Burn it up mr dj (beats)
Heaven 17 - Temptation
New Orde - The beach (beats)
Earlene Bentley - The boys come to town
Noodweer - In de disco
Sylvester - Do you wanna funk
Valerie Allington - Stop
(C)2003 MixMania
Mixed by Robert Waelpoel
Equipment / software
Technics SL-1200 mk2, Dateq XTC, Alesis Airfx, Pioneer CMX3000, 2x PC met Soundforge 6.0, Acid Pro 4.0, BPM Studio 4.0, Cool edit pro 2.0

We take a recent track, and track back to the original sample

2 In a Room - Do what you wanna Do
Uses the beats from:
Depeche Mode - Shout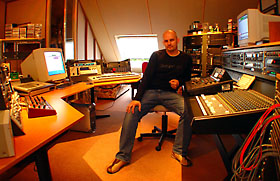 All mixes and remixes by
Ben Liebrand
except as noted otherwise

Ben spins live at the wheels of steel. Check
here