One hour non-stop mix by Ben Liebrand

As if you were back in the old days Ben mixes tracks from the past with a touch of the present.
The Trammps - Shout
The Trammps - Disco Inferno
Odyssey - Shake your body
Nightlife Unlimited - Dance Freak & Boogie
Sylvester - I (who have nothing)
Harry Thuman - Underwater
Revanche - Revanche
The Mike Theodore Orchestra - High On Mad Mountain
France Joli - Don't stop dancing
Special Thanks to Frans vande Kamp for providing many masters used in this (and other) episode(s) of In The Mix
---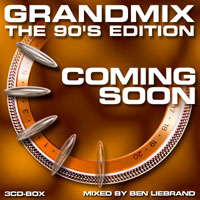 Check out
the brand new Grandmix 90's Edition
---

Paul Steman 80's mix
Chic My forbidden lover
Parliament Give up the funk
Sugar Hill Gang Eight wonder
Gap Band Say Oops upside your head
Commodores Brick house
Average White Band Picking up the pieces
Blondie Rapture
Grandmaster flash Adventures
Murphy, Walter Fifth of beethoven
Jackson, Jermaine Let's get serious
Benson, George Give me the night
Franklin, Rodney The groove
Ross, Diana Upside down
Bee Gees Night fever
Wild Cherry Play that funky music
Ross, Diana I'm coming out
LTD Back in love again
KC & Sunshine Band That's the way (I like it)
Horne, Jimmy 'Bo' Dance across the floor
Rose Royce Do your dance
KC & Sunshine Band Keep it comin' love
Sugar Hill Gang Rappers delight
M Popmuzik
Kinney, Fern Groove me
Chic Good times
trussel Love injection
Instant Funk I got my mind made up
Sugarhill Gang Rapper's reprise
Sugarhill Gang Rapper's delight
Blow, Kurtis The breaks
Blow, Kurtis Rappin'
Queen Another one bites the dust
People's Choice Do it anyway you wanna
Instant Funk I got my mind made up
Delegation Put a little love on me
White, Barry Can't get enough of you love
McCoy, Van The hustle
Kool & The Gang Ladies' night
McFadden & Whitehead Ain't no stoppin' us now
Positive Force We got the funk
T-connection Saturday night
KC & Sunshine Band Shake your booty
KC & Sunshine Band Come to my island
KC & Sunshine Band Get down tonight
Delegation You and I
Soccio, Gino Try it out
Chic Chic Cheer
Kahn, Chaka I'm every woman
Whispers, The And the beat goes on
Sister Sledge He's the greatest dancer
Shalamar The second time around
Whispers, The And the beat goes on
Thurston, Bobby Is something wrong with you
Jacksons Blame it on the boogie
Rushen, Patrice Forget me nots
Chic I want your love
KC & Sunshine Band I'm your boogie man
Scott, Jil The bottle
Sister Sledge We are family
Rose Royce Carwash
Haywood, Leon Don't push it don't force it
M.F.S.B. T.S.O.P.
Pagan, Bruni Fantasy
Haywood, Leon Don't push it don't force it
Player's Association Turn the music up
Crown Heights Affair You gave me love
Hudson, Al & Partners You can do it
Summers, Bill Straight to the bank
First Love Don't say goodnight
Lakeside Fantastic Voyage
Emotions Best of my love
Lynn, Cheryl Got to be real
---

A weekly suggestion to make your retro trip complete.
Obviously influenced heavily by my love for Science Fiction
read more...