One hour non-stop mix by Ben Liebrand

As if you were back in the old days Ben mixes tracks from the past with a touch of the present.
Picking up where I left off 2 weeks ago:
Dan Hartman - Instant Replay
Poussez - Never Gonna Say Goodbye
Who's Who - Palace Palace
Frankie Valli - Soul
The Bombers - Get Dancin' (part 1)
Tantra - Hills of Kat Mandu
Belinda Carlisle - Heaven is a place on earth
The Bombers - Get Dancin' (part 2)
Love & Kisses -Thank God it's Friday
Chic - Everybody Dance
The tracks marked with ?? didn't immediately jump to mind while typing this list. To avoid further delay in finishing the page, they will be added later
---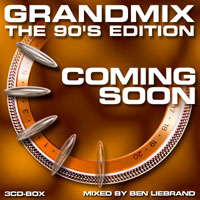 Check out
the brand new Grandmix 90's Edition
---

Patrick Vermeulen aka DJ AGAB
The Real Millennium Mix Part II
Intro - Real Millennium Mix Part II
Captain Hollywood Project - Impossible
Real to Reel - Can you feel it
Dance II Trance - Power of American Natives
RTS - Dildo
Ben Liebrand - The Chase
Storm - Time to Burn
Sonique - So Good
Kosheen - Catch
Capella - Turn It Up
Carlos - The Samarella
Jam And Spoon Right in the Night
Sash ft Tina Cousins - Mysterious times
Scoop - Rock the House
PF Project - Choose Life
Eve Deruyther - II the Rhythm
The Shamen - LSI
RTS - Elevator up and down
Capella - You Got to Let the Music
Culture Beat - Mr Vain
Perfect Phase - Horny Hornes
Baby D - Let me Be your Fantasy
2 Unlimited - Do what's good me
U- Love sees no Color
Culture beat - Got to get It
Sander Kleinenberg My Lexicon
2 Unlimited - Let the Beat Control
2 Unlimited - Twilight Zone
The Oh! - Got to B Free
Fougees - The Way
Culture Beat - Take Me Away
Magic Affair - Give me All Your Love
Culture Beat - We Walk the Same Line
BBE-Seven Days and One Week
Sash - Stay
Leila K - Electric
Culture Beat - Crying in the rain
Culture Beat - Anything
Delerium - Silence
Milk Inc - In the Land of the Living
Safri Duo Played Alive (I)
Fragma ft Maria Rubia Everytime you need me
Safri Duo Played Alive(II)
Frankie Goes To Hollywood Relax
Outro RMM Part II stay tuned for the next remix!
---


A weekly suggestion to make your retro trip complete.
Obviously influenced heavily by my love for Science Fiction
read more...