Classic minimix by Ben Liebrand:

Queen vs Genesis - Mama will rock you
A mash-up made long before anyone had heard of the term "mash-up"

A classic remix by Ben Liebrand:

Kool & the Gang - Ladies Night (swingbeat mix)
Following the lines of Guy's "Her", ths mix took Kool & the Gang into the age of swingbeat. It's a shame that Guy's album was to much "ahead of it's time". It took several years after this album, for the world to open up to R&B. Re-release it today and "bob's your uncle"

Another daring new mix combination by Ben Liebrand:

Be suprised !!


The DMC Madonna megamix2 by Sue Denim

A special studio guest tells us about his all-time classics
No studio guest this week


Your chance to get your mix played on air. Send them to:
Postbus 15, 6550 ZG Weurt Netherlands. Don't forget to put your name and e-mail address on the CDR and list all the tracks that are used.
Please also send that playlist to me by
e-mail
. Don't be upset if your mix doesn't make it, or if it takes some time before it is broadcast.

Harold Zwaartman : The High Energy/Italo "where is this going?" mix
Dollman - High Sex Drive
Rofo - Flashlight on a disconight
K. Barre - Right by the moon
Tapps - My forbidden lover
Sysley Ferrre - Give me your love
Roni Griffith - Best part of breaking up
Albert One - Heart on fire
Lime - Babe were gonna love tonight
The Flirts - Passion
Yazoo - Situation
Le Jete - Le cage aux folles
Risque - Burn it up
Michael Bow - Love and devotion
Brenda K. Starr - Pickin up the pieces
Miquel brown - so many men, so little time
Sylvester - do you wanna funk
Jellybean - the real thing
Man Parrish - Hip hop be bop
Loverde - Die hard lover
Donna summer - I feel love
Jellybean - The Mexican
Mirage - No more no war
Freez - IOU
Scotch - Disco band
My mine - Hypnotic tango
Jock Hattle - Crazy family
Electric Theatre - Balletdancer
Man parrish - Six simple synthesizers
Bobby 'O' - She has away
Camaro's gang - Ali shuffle
Peter Jaques band - Going dancing down the street
Max him - Lady fantasy
Azul Y Negro - The night
Jody Watley - Don't you want me
Man parrish - Male stripper
Poussez - Come on and do it
ABC - The look of love
Lisa - Rocket to your heart
Nuance - Loveride
Maria Fidal - Body rock
Fun fun - Happy station
Hotline - Guilty
Righeira - Vamos ala playa
Kat mandu - The break
Colonel abrams - Trapped
Patrick cowley - Megatron man
X ray connection - replay
Roy - Destiny time
The Twins - Love system
Debbie Jacobs - Hot hot give it all you got
The sparks - Beat the clock
Digital emotion - Don't stop the motion
Telex - Moskow discow
Lime - Your love
Samantha gilles - Let me feel it
Cori Joasis - Takin it straight
Mike and Brenda Sutton - Grrriiip my hips and move me
Thomson twins - Dr dream
Paul Sharada - Keep your love alive
Paul lekakis - Boom boom
Grant miller - Red for love
Fun fun - Colour my love
Lime - Unexpected lovers
Easy Going - Fear
The Jets - Rocket to you
Premio nobel - Baby doll
Bohannon - Let's start the dance again
Hazel dean - Searchin
Fancy - Slice me nice
Yvonne elliman - Love pains
Den harrow - Future brain
Hashim - Al nafysh
Farley J. funk - Love can't turn around
Eurithmics - Sex crime
Dimples D - Sucker DJ

We take a recent track, and track back to the original sample

Thelma Houston - Here i am again
Supplied pretty much all the music samples for

Powerhouse ft Duane Harden - What I Need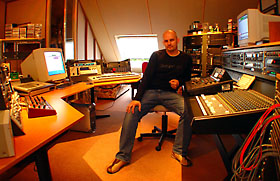 All mixes and remixes by
Ben Liebrand
except as noted otherwise

Ben spins live at the wheels of steel. Check
here
This weekend:
---
Zaterdag 26 Juni
Dance Classics
PrivateParty
Rosmalen
19:30 - 22:30 uur