One hour non-stop mix by Ben Liebrand

As if you were back in the old days Ben mixes tracks from the past with a touch of the present.
Earth, Wind & Fire - In the Stone
Bangles - Walk like an egyptian (acap)
Rene & Angela - Save your love for nr. 1
Chic Good - Times (acap)
The Whispers - And the beat goes on
Will Smith - Men in Black (acap)
Crown Heights Affair - You gave me love
K.I.D. - Don't stop
Colonel Abrams - Trapped
Madonna - Holiday
Class Action - Weekend (acap)
Gwen McCrea - Should have been you
Degrees of motion - Do you want it right nowKool & the Gang - She's Fresh
Shalamar - Take that to the bank
Colonel Abrams - Trapped (acap)
Soulsonic Force - Planet rock (acap)
Powerhouse feat Duane Harden - What you need
Michael Jackson - Don't stop till you get enough



















TASE-Mix Vol. 2 - The Experiments Of The 80´th Megamix
Mixed by Holger Mülder (TASE)
01 Intro Holger Mülder (TASE)
02 You Ten Sharp
03 Drive The Cars
04 Blue Night Shadow Two Of Us
05 Forever Live And Die OMD
06 Life´s What You Make It Talk Talk
07 Hide And Seek Howard Jones
08 Africa Toto
09 Hey Matthew Karel Fialka
10 Flesh For Fantasy Billy Idol
11 Shout Tears For Fears
12 Sounds Like A Melody Alphaville
13 Big in Japan Alphaville
14 Wouldn´t It Be Good Nik Kershaw
15 What Is Love ? Howard Jones
16 My Soul Unwraps Tonight Savage Progress
17 The Riddle Nik Kershaw
18 It´s My Party Dave Stewart feat. Barbara G.
19 25 Years The Catch feat. Don Snow
20 Self Control Laura Branigan
21 One Night In Bangkok Murray Head
22 Hold Me Now Thompson Twins
23 The Night You Murdered Love ABC
24 Sometimes Erasure
25 Love On Your Side Thompson Twins
26 Fade To Grey Visage
27 Such A Chame Talk Talk
28 I Engineer Animotion
29 Everything Counts Depeche Mode
30 Wild Boys Duran Duran
31 Precious Little Diamond Fox The Fox
32 True Faith New Order
33 Axel F. Harold Faltermeyer
34 Situation Yazoo
35 Strangelove Depeche Mode
36 Don´t You Want Me The Human League
37 Outro Holger Mülder (TASE)
Sjoerd Wijdoogen aka Stuart
Stuart's Awesome Bootleg Mix (The last 20 minutes)
New order - Blue monday
Vitalic - You prefer cocaine
Missy Elliot feat. Nelly Furtado - Get ur freak on
The Zombies - She's not there (Re-vibed)
Fatboy Slim - The Rockafeller Skank
Electric light orchestra - Here is the news
B52's - Loveshack
Aretha Franklin - Respect
Fatboy Slim - Love island
That petrol emotion - Big decision
Pink - Get this party started
Gold & Liebe Tronträger presents Bobby R. - Crush & Crumble
Vanilla Ice - Ice ice baby
Outro:
Electric Light Orchestra - The Whale
Marther Luther King - I have a dream

A weekly suggestion to make your retro trip complete.
Obviously influenced heavily by my love for Science Fiction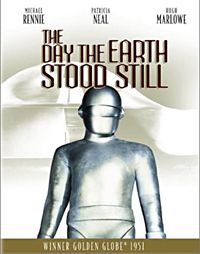 The day the earth stood still (1951)

Alien visits earth to make the "earthlings" understand that they are distroying themselves. The message still as appropriate today as it was when this film was made.
Parts from the voice over of this film where used in the intro of one of the grandmixes

Old Style Special Effects

Story

Retro Feel
Famous quote : Klaatu barada nikto!