minimix classic by Ben Liebrand:

TalkTalk multimix:
On the loop from Talk Talk's Such a shame you can hear
Depeche Mode
Miami Sound Machine - Dr. Beat
The Broads - I got rhythm (Ben Liebrand remix)
Scritty Politi - Pray like aretha franklin
Scritty Politi - Absolute

A new mix combination by Ben Liebrand:

Tony Scott vs. C&C music factory - Gonna make the Bigband sweat.
This time Tony meets "Gonna make you sewat" to result in a funky mash-up which equals, if not surpasses the Kylie mash-up from
last week
.

Ben's guest tells us about his adventures and all-time favorites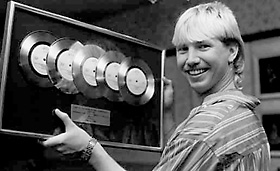 Our man of this evening is Peter Slaghuis. Jerry Beke is in the Studio to tell us about Peter's favorites, his adventures and his career and life which abrubtly ended in a car crash in 1991.
Alltough I knew Peter for years from his mixes and DJ work in Rotterdam, it wasn't untill he moved to a small village near where I lived before I got the chance to get to know him better.
Peter helped me out with a couple of tracks I was searching for and I was glad to be of help with some technical issues he encountered. Between the Liebrand and the Slaghuis Fans there appeared to exist some rivalry over the years, but I am happy to say that none of that was the case between Peter and myself personally. I am thankfull for the time I knew him and regret that so little time was granted.
Some of the many mixes Peter made are played tonight:

Nu Shooz - I can't wait (Peter Slaghuis DMC re-remix)

Nathalie Cole - Pink Caddilac (This is the remix for DMC which led to his monster hit "Jack to the sound of the Underground)

Peter Slaghuis - DiscoBreaks 9
Are you interested in Peter's mixes and his never released but completed last album "Acute Sense Of Hearing" than let us know. Either visit
Jerry Beke's website
or the official
Peter Slaguis Website
and let them know you would like to see his work released on CD.
Also listen to the extra in depth interview
here
where Jerry and I talk about Peter's much too short career.

Your chance to get your mix played on air. Send them to:
Postbus 15, 6550 ZG Weurt Netherlands. Don't forget to put your name and e-mail address on the CDR and list all the tracks that are used.
Also don't be upset if your mix doesn't make it, or if it takes some time before it is broadcast.

This weeks mixfreaks item was kind off filled by Peter Slaghuis's Disco breaks 9...

Minimix classic by Ben Liebrand

Time is up, no time for another minuimix this week

We take a recent track, and track back to the original sample

Future Groove express - Thru tha roof based on:

Taste of Honey - Boogie Oogie Oogie
As time did not permit this item to be broadcast last week, here it is now!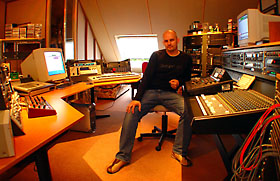 All mixes and remixes by
Ben Liebrand
except as noted otherwise

Ben spins live at the wheels of steel. Check
here