2 minimixes classics by Ben Liebrand:

Public Enemy vs. Whitney Houston - I'm your baby tonight

Frankie Goes To Hollywood - relax/two Tribes minimix

A brandnew mix combiantion by Ben Liebrand:

Technotronic vs. Timberlake - pump it like I like it
This Ben Liebrand remix has surfaced on cdr's all over the country, originating from a combination Ben mixes live on Pioneer cdj1000's, thismix combines the music from Technotronic with the vocals of Justin Timberlake.
Revisiting the original edit, I have added an extra double chorus at the end, plus some extra outro. Enjoy !!

Here
is the story behind this mix !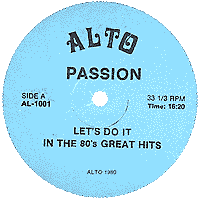 Alto Passion - Let's do it in the 80's
It was this mix that started the whole Stars on 45 thing
Michel Gendreau was one of the main creators. Michel Ali came up with the initial idea.
Paul Richer did the editing
read more...

Minimix classic by Ben Liebrand:

M.A.R.R.S. vs. Michael Jackson - Pump up the volume/Bad

Your chance to get your mix played on air. Send them to:
Postbus 15, 6550 ZG Weurt Netherlands. Don't forget to put your name and e-mail address on the CDR and list all the tracks that are used.
Also don't be upset if your mix doesn't make it, or if it takes some time before it is broadcast.

Diederick van der Nat
1982 mix:
Diederick mixes tracks from the year 82 using only the mixing styles available at the time. So NO samples and effects, just breaks loops and music! Whilst we play about 7 minutes from the mid-section of this mix, the whole mix runs for an hour, so let us know what you think of it, we might just broadcast the whole thing!
Patrice Rushen - Forget me Nots
Sharon Brown - I specialized in love
Chemise - i can't love you
Kasso - Walkman
Forrest - Rock teh boat
D'Train - Walk on by
D'Train - Keep on
Duran Duran - Save a prayer
Captain Rock - cosmic glide
High Fashion - Feeling lucky lately
Evelyn Champagne King - Love come down
Rocker's Revenge - Walkin' on sunshine
Sharon Redd - Never give you up
Toney Lee - Reach up

Minimixes classic by Ben Liebrand

Joe Jackson -Is she really going out with him

We take a recent track, and track back to the original sample

Alcazar - Crying at the Discotheque
The year 2000 was the year for Alcazar with their huge hit "Crying at the Discotheque". Suprisingly few people know the original track where Alcazar took it's groove from:

Sheila B & the Black Devotion - Spacer